Celine M10 Tokyo
Celine Double doors consists of two glass doors that open 180 degrees. The product has sturdy door jambs made of aluminium and door leaves made of tempered glass. The product comes with frames, hinges, 2 door leaves, flush pull handles and a magnet to lock the doors in place against the jambs. The wanted handle should be chosen when placing the order.

In the New York, Tokyo and Paris models, the door leaves are framed. The Tokyo and Paris models are also equipped with aluminum grids glued to the glass.
Install
The aluminum frame is assembled and attached to the walls of the building. The door leaves hinges are attached to the frame. The door leaves are attached to the hinges attached to the frame. Mount the magnets to the door-leaves, let the tape set for 24 hours, and lastly mount the magnet strip to the frames. Alternatively everything can be mounted at once, if both doors are held open for at least 24 h. Installation guide
31 Working days
20 year warranty
Frame colour
Product jambs and depending on the model possible door leaf frames and grids are manufactured of aluminium profiles. Hinges and other fittings are manufactured of brass alloy. Aluminium profile and fitting surfaces are powder painted using black color (RAL 9005).
Glass colour
The product is manufactured of 8 mm thick tempered safety panel (EN 12150). There's plenty of glass options available. Transparent, grey, brown, super bright, mirror, black and opalglass. Satinglasses are available in different hues (satin, brown satin, grey satin and super bright satin), there's also hue options for the reeded glasses (reeded, brown reeded and grey reeded).

One side of the satin glasses is etched to acquire a velvety feel and the other side is smooth. When choosing a satin glass product, bear in mind that the etched surface of the panel is sensitive to scratches and stains.
The mirror glasses transparency depends of lighting in the space, when backside is lit the glass seems transparent, when the backside is dimmed or dark, the mirror effect kicks in.
The black glass is also slightly see through in heavy light and almost nontransparent if the space is darker.
The super bright glasses are manufactured with the iron removed, thus removing most of the green tint that glasses naturally have.
Opal glass is a laminated glass, that is white tinted and nontransparent, but let's through most of the light.
Product size
The doors are manufactured according to measures. When ordering, please state the width and height of the installation opening. A should be the left door and B the right door, viewing the gap from the opening direction of the doors. A 20 mm total mounting space is left between the product frames and the specified mounting opening. The free access opening is 110 mm smaller than the width of the specified mounting opening, when both doors are opened. The depth of the frame is 92 mm.
Product size
The selected product can be installed into the opening the total width L1 of which is 1600mm and the total length L2 2000mm.: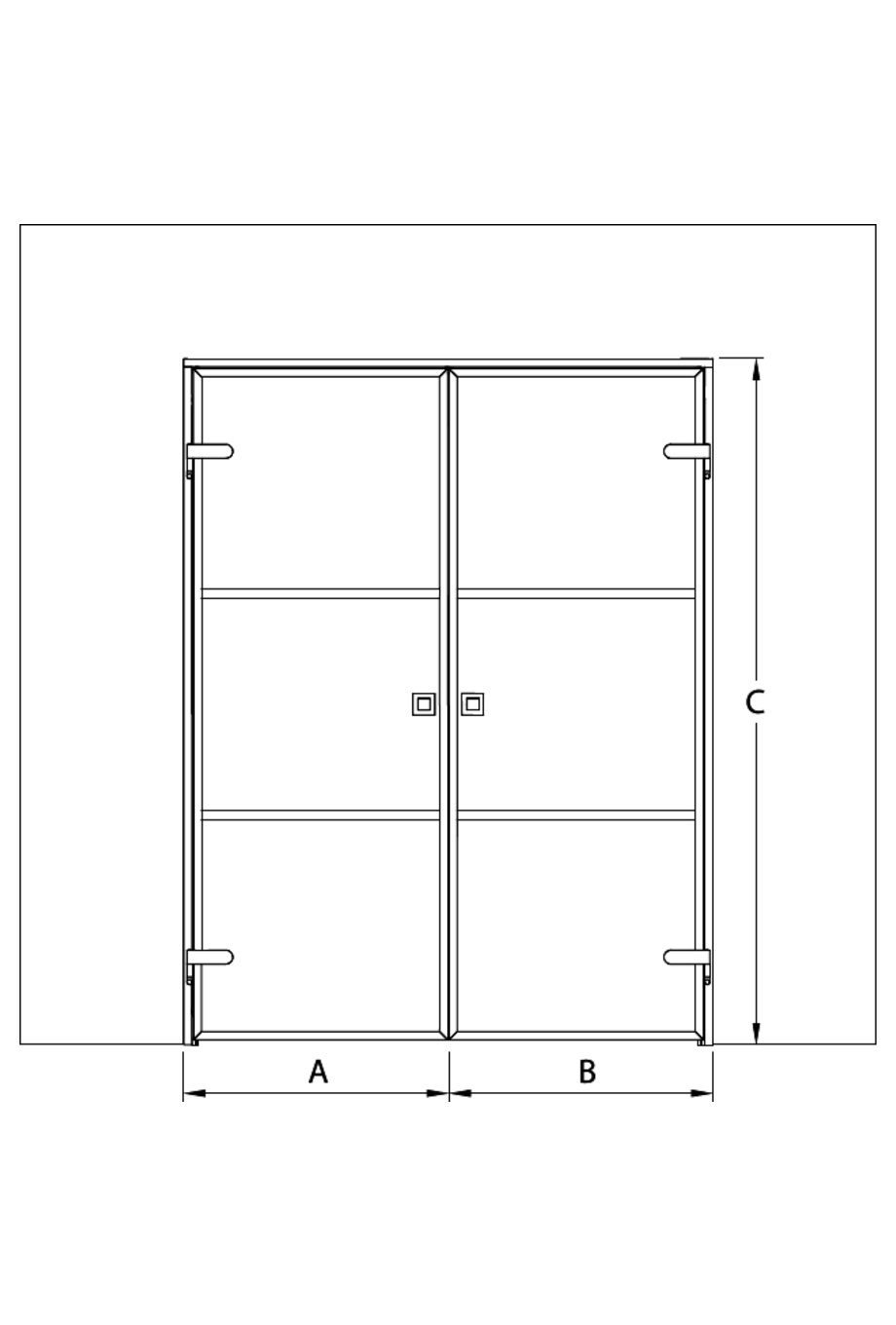 Handle options
Please select handle model:
Celine double Left door
Black painted/Transparent=800 x 2000
Celine double Right door
Black painted/Transparent=800 x 2000
Maintenance manual Maintenance guide
/=
Celine M05-M11 Celine jambs
Black painted/=10 x 1600
Celine M03 Tokyo -kehys Tokyo -frame
Celine M03 Tokyo -kehys Tokyo -frame
The selected product can be installed into the opening the total width L1 of which is 1600mm and the total length L2 2000mm.: