Bläk 723 Paris
Glass wall with hinge side fixed panel, pair door and upper window
The glass wall configuration consists of an upper window, a double door and a fixed panel.

The doors open 90 degrees to the outside and are equipped with adjustable centring. The function of the centering is to return the door to the open and closed positions.
Install
The door panel with fixed part is mounted by the fixed part to the building wall and floor using wall mounting profile and floor fitting profile. The door panel is mounted to the other side of the enclosure using wall mounting profile. The panels and the upper window are secured with self-drilling screws. Magnet seals are installed on each of the doorway panels to keep the door tightly closed.
21 Working days
20 year warranty
Frame colour
The profiles mounted to the edges of the panel are manufactured of aluminium. The white (RAL 9016) and black (RAL 9005) surface treatment options are manufactured by powder coating.
Glass colour
The product is manufactured from a 6mm thick clear tempered safety panel (EN 12150).
Product size
Glass wall is manufactured according to custom dimensions. The wallmounting profiles have the total of 22mm adjustment tolerance. The adjustment tolerance can be used for levelling any tilt in the building s walls as well as for accommodating the alcove fitting into the installation opening. Door opening is 146mm smaller than indicated total door measure .
Product size
The selected product can be installed into the opening the total width L1 of which is 1500mm and the total length L2 2400mm.: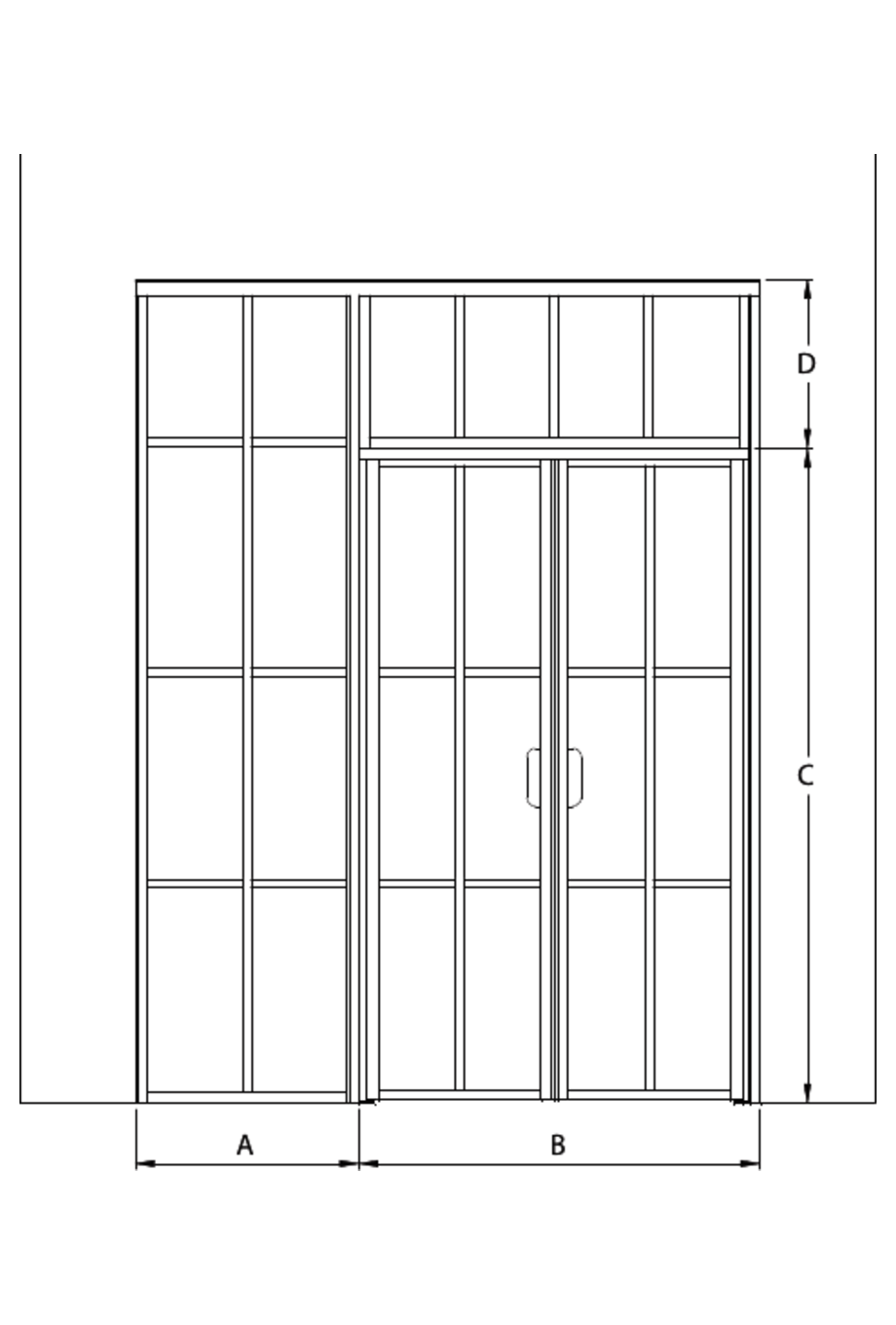 Blak 736 Door
White painted/Transparent=482 x 2000
Blak 736 Door
White painted/Transparent=482 x 2000
Bläk 735 Upper window
White painted/Transparent=990 x 400
Blak 737 Hinge side panel
White painted/Transparent=500 x 2400
Blak 736 Door and upper window mounting kit
White painted/Transparent=10 x 2400
Bläk 710 Broad ceiling list
White painted/=10 x 1500
Maintenance manual Maintenance guide
/=
Bläk 703 Paris -frame Paris -grid
Bläk 703 Paris -frame Paris -grid
Bläk 703 Paris -frame Paris -grid
Bläk 703 Paris -frame Paris -grid
The selected product can be installed into the opening the total width L1 of which is 1500mm and the total length L2 2400mm.: