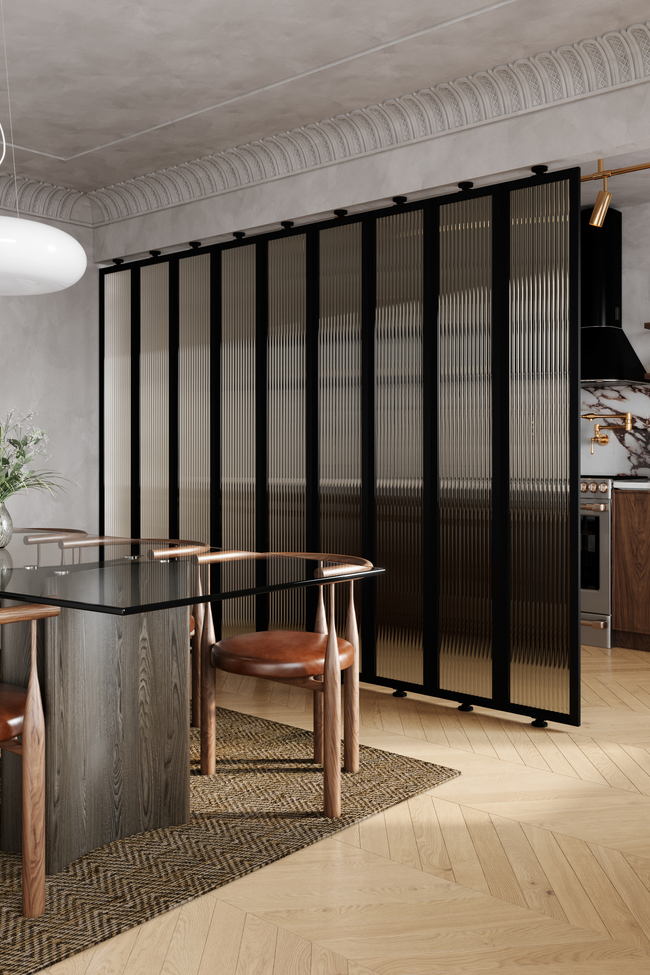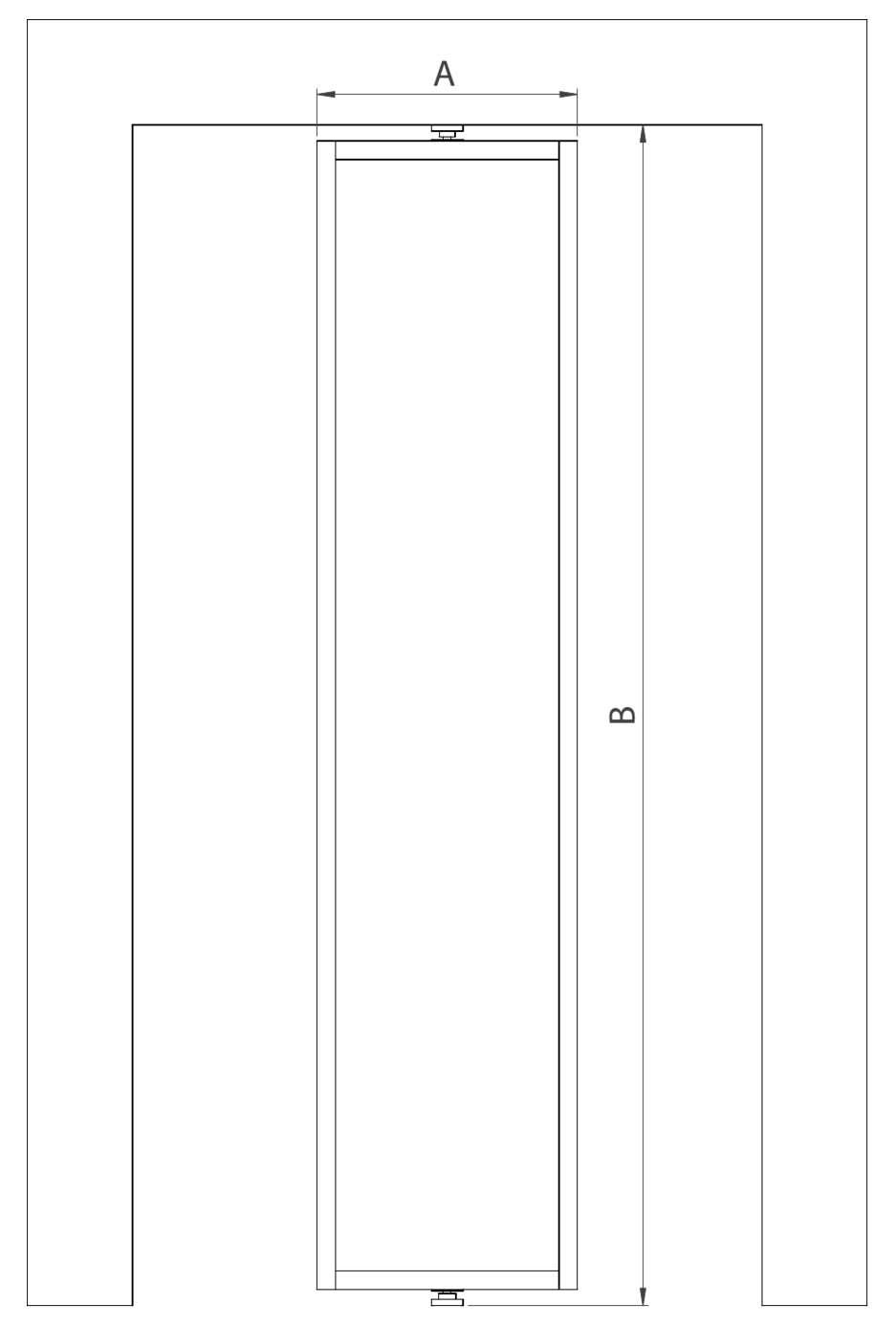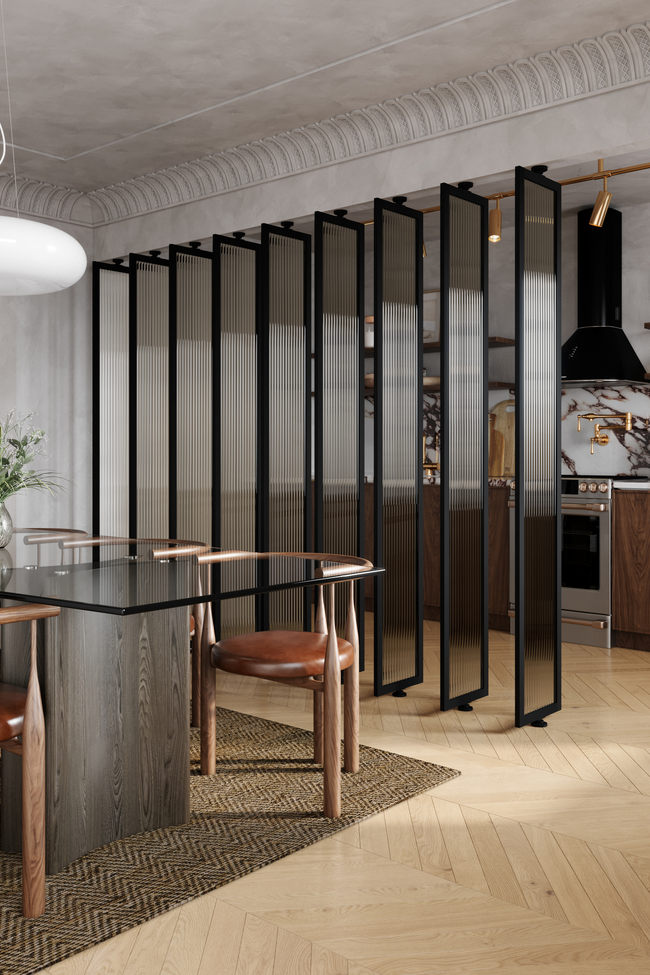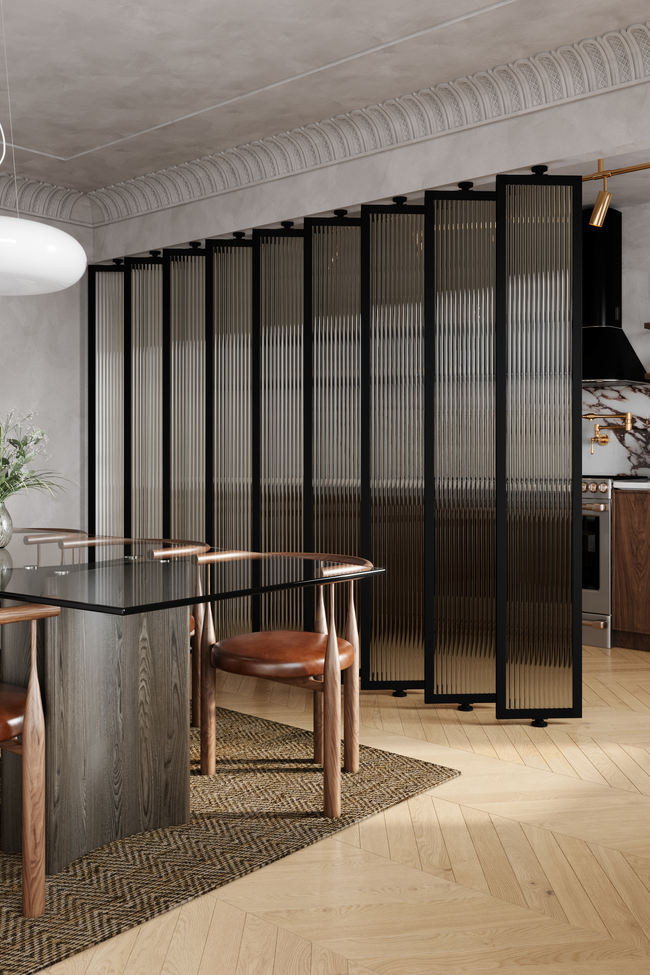 Bläk Cascade CDN
A framed glass screen that rotates. The product consists of a glass panel, that is fixed to the ceiling and the floor with rotating clamps, creating a beautiful interior element. The panel can be used alone, or several panels can be mounted next to each other, to create a stunning interior element that can be closed up for privacy, or opened to let a maximal amount of light through.
Install
The panel is mounted by screwing the top and bottom parts to the premarked spots and placing the bottom clamp and the panel into place, after which the panel should be carefully angled correctly. The bottom clamp can be either glued or screwed to the floor, depending on flooring in the space, for bottom clamp mounting, lift the glass panel off after positioning the clamp correctly, and mount it. Before screwing into floor, it should be carefully controlled, that there isn't any technical restriction, for example pipes or heating, in the floor, that prevents screw-mounting. If such restrictions are present, please glue the bottom clamp instead! If gluing the bottom clamp, please let the glue cure before continuing with the following steps. When the bottom clamp is mounted, the glass panel with the top clamp should be lift into place. Carefully mark screw holes in ceiling, and mount the top clamp, lastly make sure everything is well fixed to it's place according to the installation instructions.
21 Working days
20 year warranty
Frame colour
The profiles of the product are manufactured of aluminium and painted black (RAL 9005) through powder coating.
Glass colour
The product is manufactured of 6mm thick tempered safety panel (EN 12150). Transparent, grey and brown are smooth surfaced and transparent panels. Reeded and satin panels are not fully transparent, details cannot be made out through the panel. The reeded glass is smooth on one side and textured on the other. One side of the satin panel is etched to acquire a velvety feel and the other side is smooth. When choosing a satin panel product, bear in mind that the etched surface of the panel is sensitive to scratches and stains.
Product size
When ordering, please enter the width as the wished width for the actual panel (A) and the total height of the mounting gap (B). When choosing the width it should be taken to account, that 5 mm per side of panel is needed for the panel to turn nicely. If ordering several panels to be mounted next to each other, it should be taken into account that the wished gaps between walls and between panels are noted.
Product size
The selected products total width is 500 mm and the total length of the mounting gap is 2000mm. The ready gap should be at least 10 mm wider than the product.: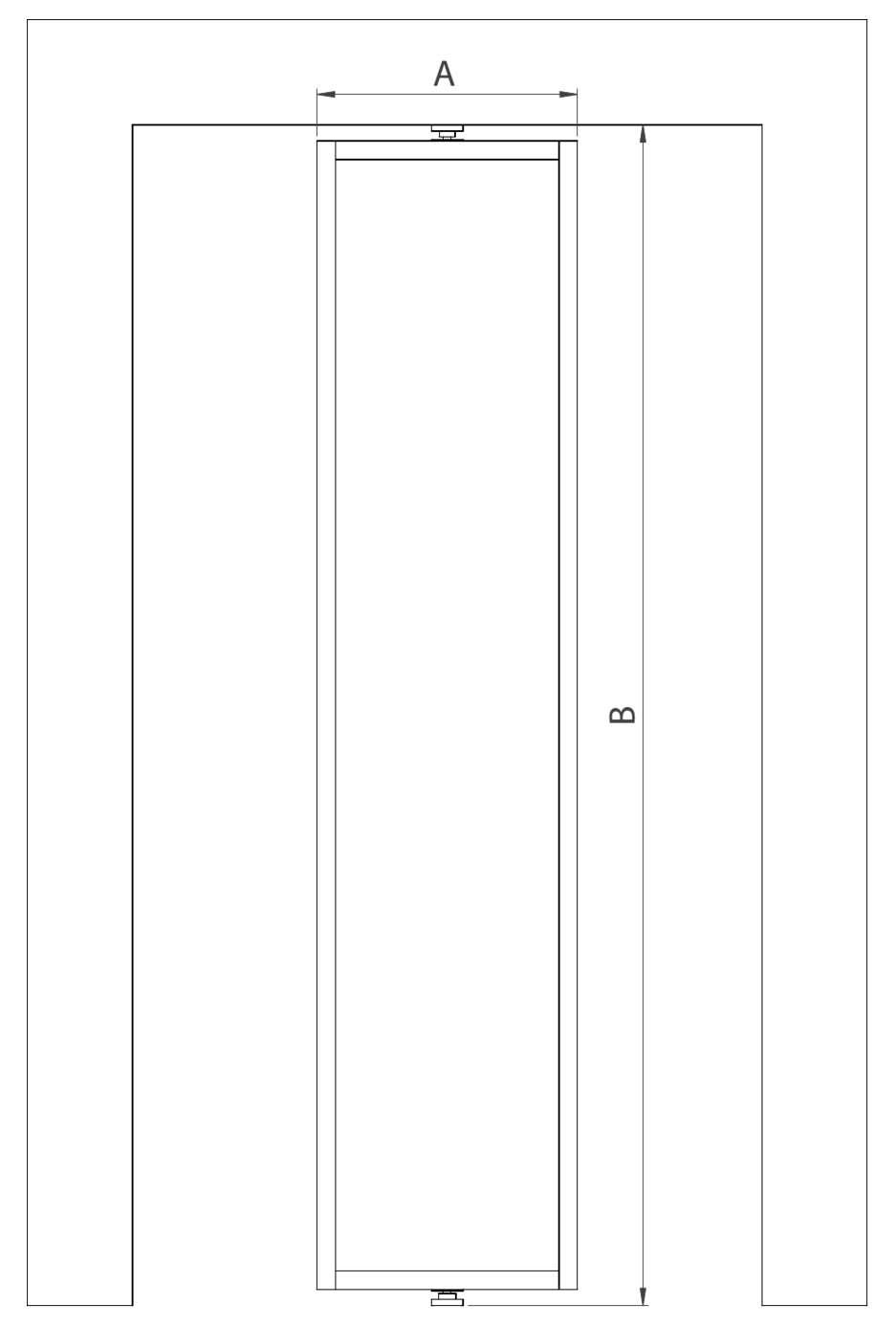 Cascade door Cascade panel
Black painted/Transparent=2000 x 500
The selected products total width is 500 mm and the total length of the mounting gap is 2000mm. The ready gap should be at least 10 mm wider than the product.: