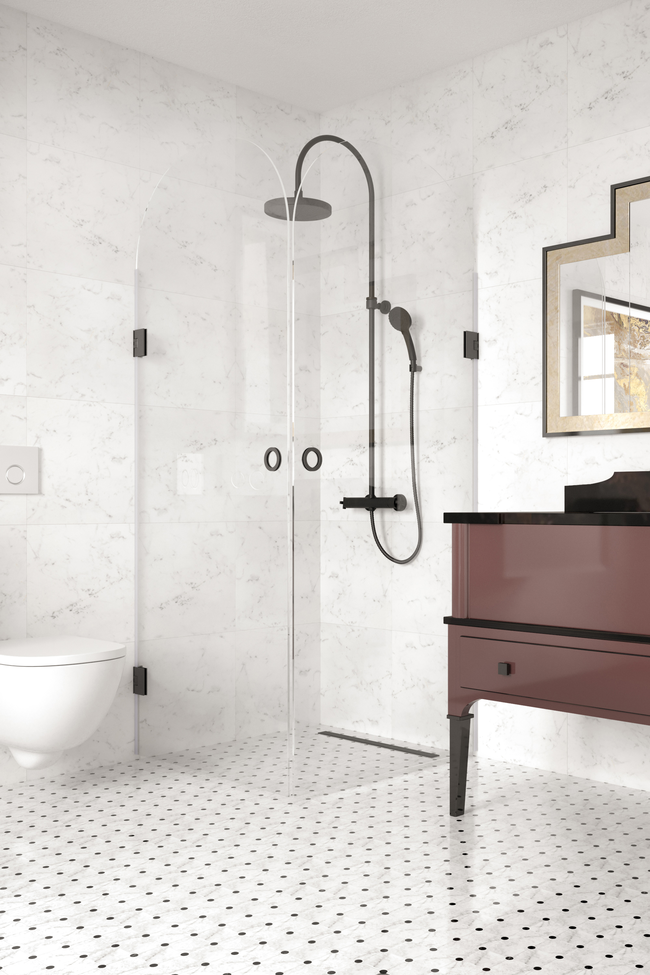 Shower enclosure with arched hinged doors Vetro 567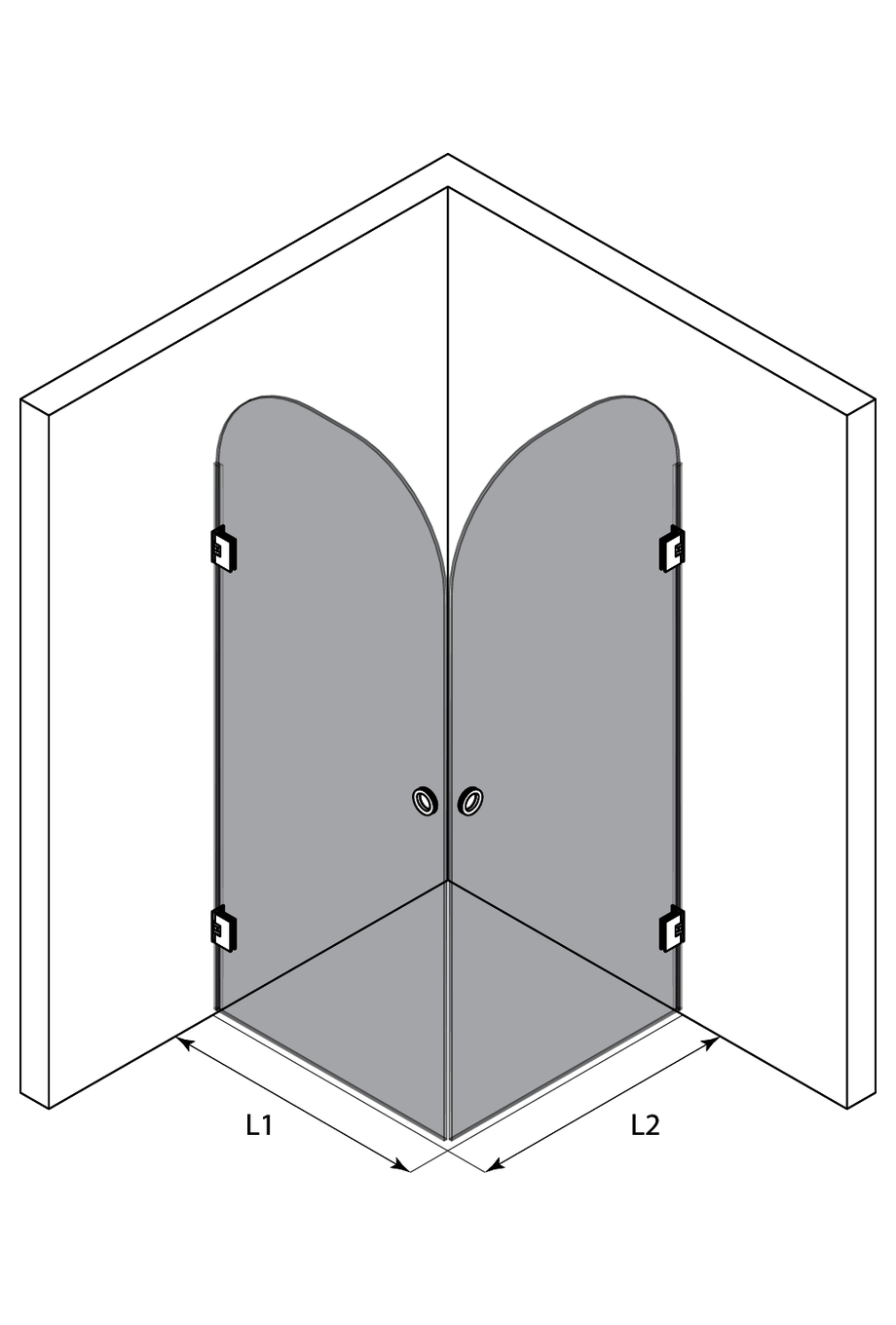 3d Shower enclosure with arched hinged doors Vetro 567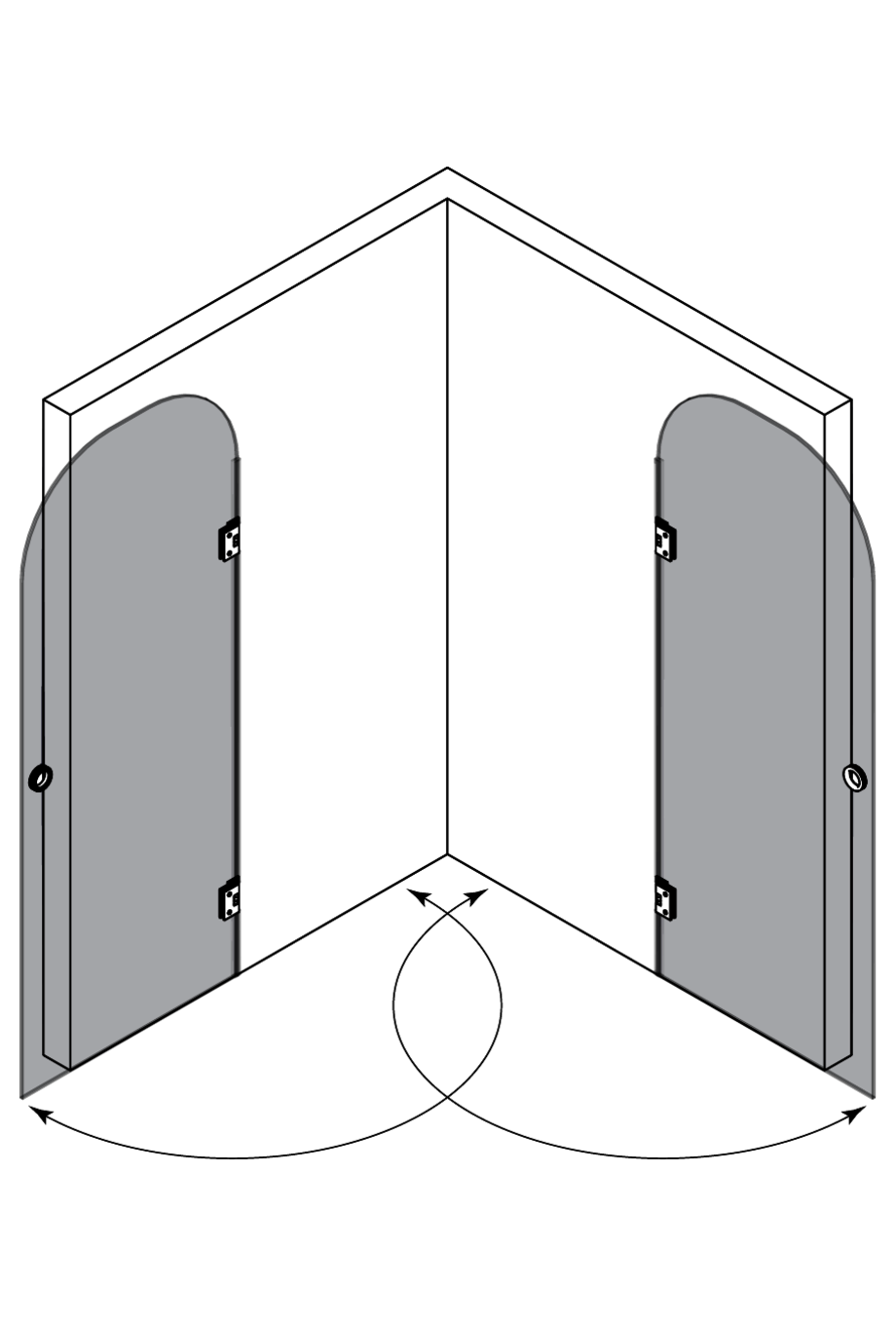 3d Shower enclosure with arched hinged doors Vetro 567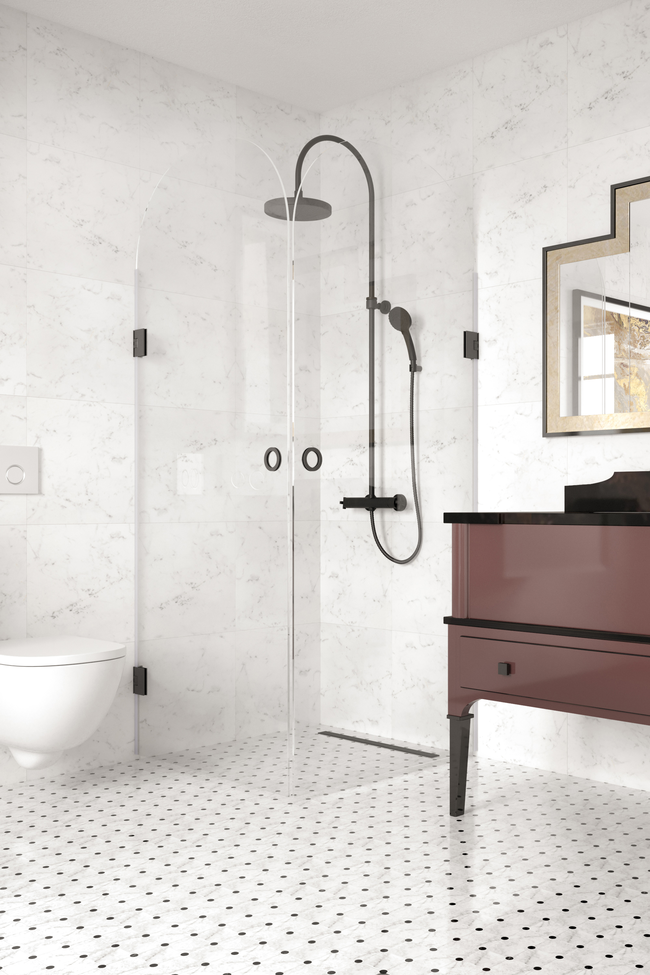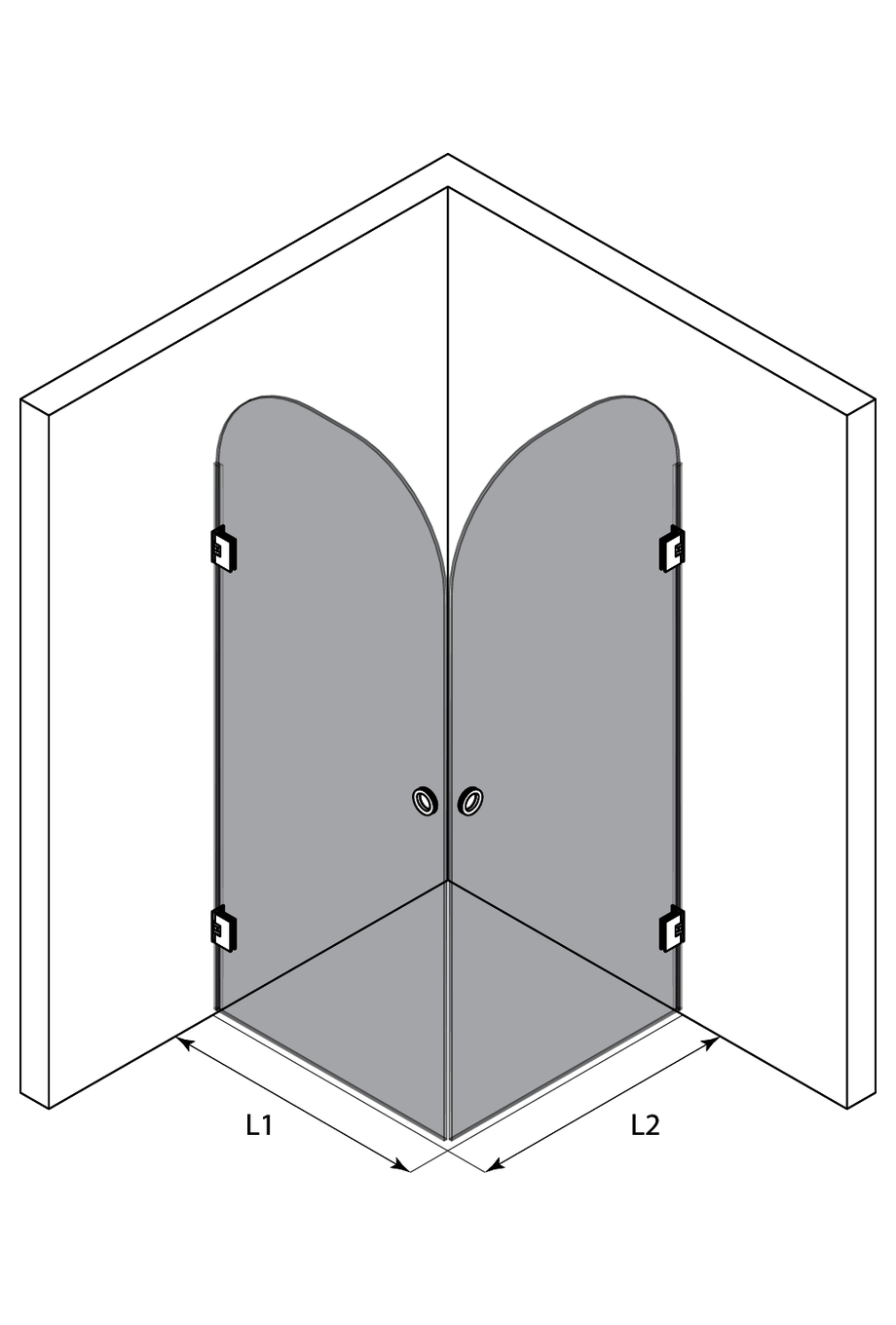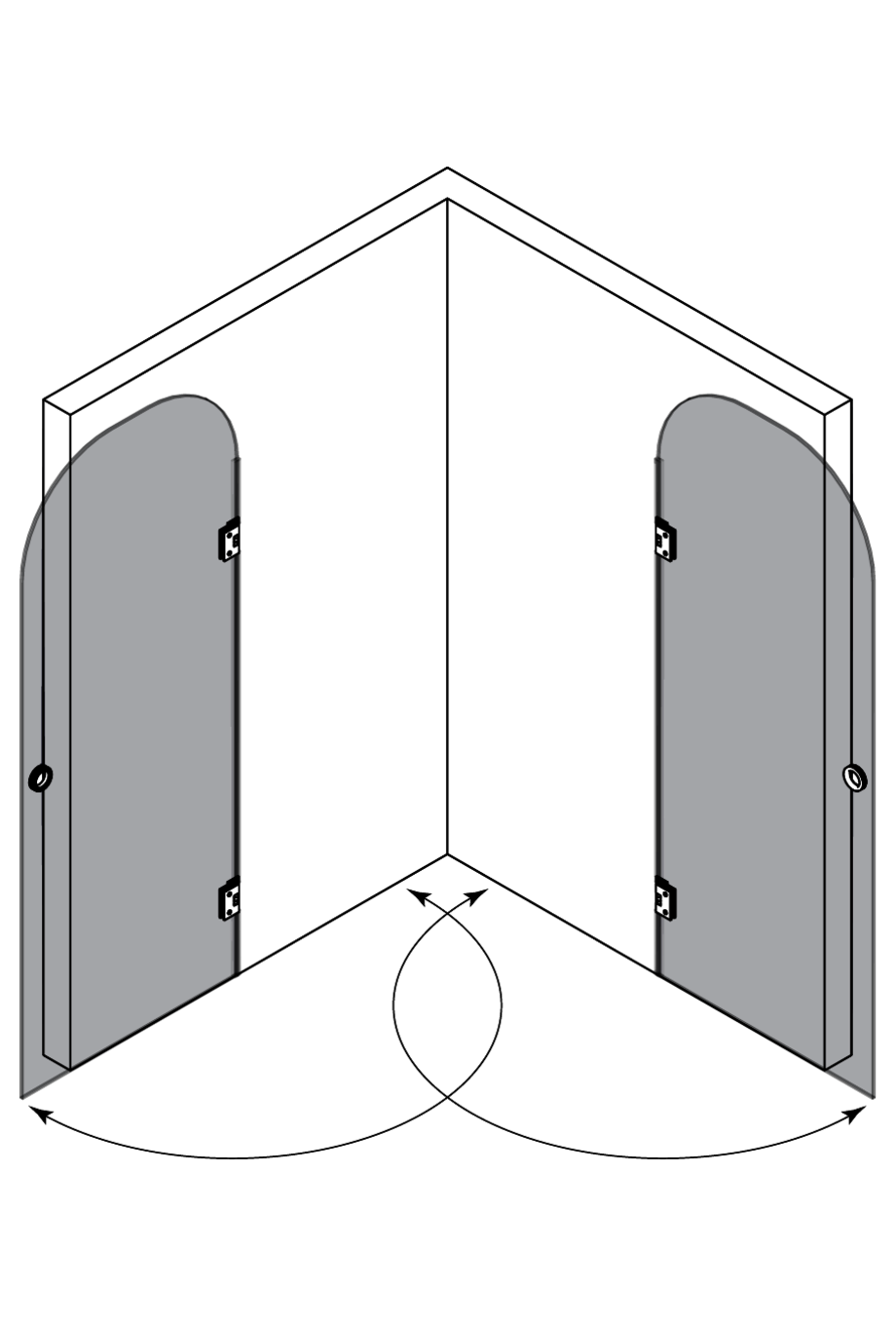 Vetro 567
Shower enclosure with arched hinged doors
Arches are one of the most timeless trends in interior design. Arched glass shape adds a personal touch to this shower enclosure. Subtle yet playful and sophisticated it will definitely add a special touch to your bathroom.

Shower enclosure consists of two hinged doors. The product is well-suited for a shower corner where there is space for opening the door either inside or outside of the shower area. The doors can be dimensioned symmetrically or so that the doors are of different sizes. When the shower is not in use, the door can be turned against the wall of the building.

Doors rotate 90 degrees in both directionsand are equipped with adjustable centring. The centring attempts to return the door back to the open and closed positions.
Install
The hinges of the door panels are mounted directly to the building wall. Floor seals can be installed along the bottom edge of the door panels, which restricts the flow of water. Installation guide
21 Working days
20 year warranty
Frame colour
The fittings used in the product are manufactured of brass alloy. Surface treatment options are chrome plated, brass and black painted.
Glass colour
The product is manufactured of 8mm thick clear tempered safety panel (EN 12150). The safety panel can be treated in the factory with a Cranith calcification prevention coating. The coating enables the panel to stay clean easier.
Product size
Shower corner is manufactured according to custom measures.
Product size
The installation dimensions of the selected combination are:
- Side L1 : 700mm
- Side L2 : 700mm
Installation dimension means the location of the outermost edge of the fitting mounted to the wall on the building wall measured from the corner of the shower area. The product does not include width adjustment options, therefore wall mountedsurfaces should be as straight as possible. Note! The parts of the shower enclosure may also be installed in the opposite direction than presented in the layout.: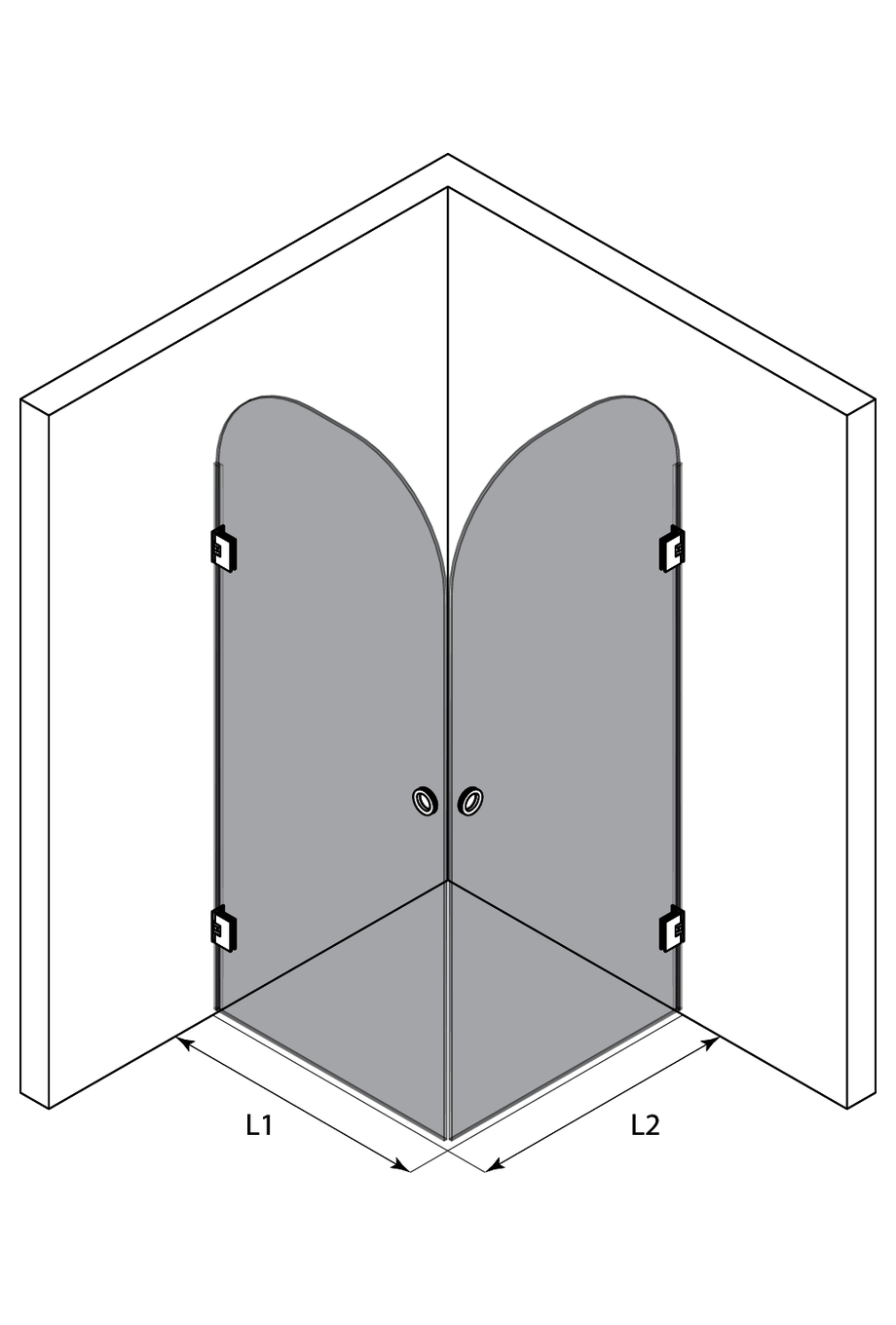 Choose accessories
The product is supplied as standard with a 33 mm high floor seal. The optional accessories are a 50 mm high floor seal for shower areas where the floor tilting is higher than normal. The length of the floor seal is 1000 mm and it is cut to a suitable length on site. The watertight quality of the product can be improved by installing a step profile under the door. The step profile is cut into a suitable length on the side and glued to the floor. The height of a shaped step profile is 10 mm and its width is 16 mm.
Handle options
Vetro 519 Shower enclosure hinged door
Chrome plated/Transparent/L1=700 x 2000
Vetro 519 Shower enclosure hinged door
Chrome plated/Transparent/L2=700 x 2000
Vetro Round Handle Round handle
VETRO SERIES CAMPAIGN 01.09.-31.12.2023
The installation dimensions of the selected combination are:
- Side L1 : 700mm
- Side L2 : 700mm
Installation dimension means the location of the outermost edge of the fitting mounted to the wall on the building wall measured from the corner of the shower area. The product does not include width adjustment options, therefore wall mountedsurfaces should be as straight as possible. Note! The parts of the shower enclosure may also be installed in the opposite direction than presented in the layout.: