Celine M04 Paris
Celine doors are made of tempered glass and aluminum. The frames are also made of aluminum, so the doors are also suitable for use in wet spaces. The door opens 180 degrees, handedness should be chosen when ordered. The product comes with frames, a door leaf, a handle, a lock cassette and a lock counterpart. The handle is interchangeable with another door handle for the Nordic market. The door is always made according to measures.

In the Helsinki model, the door leaf is unframed, so the edges of the door leaf are exposed glass. In the New York, Tokyo and Paris models, the door leaf is framed. The Tokyo and Paris models are also equipped with aluminum grids glued to the glass.
Install
The aluminum frame is assembled and attached to the walls of the building. The door leaf hinges are attached to the frame. The door leaf is attached to the hinges attached to the frame. The handeness of the product is selected when ordering the product. Installation guide
26 Working days
20 year warranty
Frame colour
Product jambs and depending on the model possible door leaf frames and grids are manufactured of aluminium profiles. Hinges and other fittings are manufactured of brass alloy. Aluminium profile and fitting surfaces are powder painted using black color (RAL 9005).
Glass colour
The product is manufactured of 8mm thick tempered safety panel (EN 12150). Glass options are transparent, satin and mirror glass. One side of the satin glass is etched to acquire a velvety feel and the other side is smooth. When choosing a satin glass product, bear in mind that the etched surface of the panel is sensitive to scratches and stains. The mirror glasses transparency depends of lighting in the space, when backside is lit the glass seems transparent, when the backside is dimmed or dark, the mirror effect kicks in.
Product size
The door is manufactured according to measures. When ordering, please state the width and height of the installation opening. A 20mm total mounting space is left between the product frames and the specified mounting opening. The free access opening is 110mm smaller than the width of the specified mounting opening. The depth of the frame is 92mm.
Product size
The selected product can be installed into the opening the total width L1 of which is 800mm and the total length L2 2000mm.: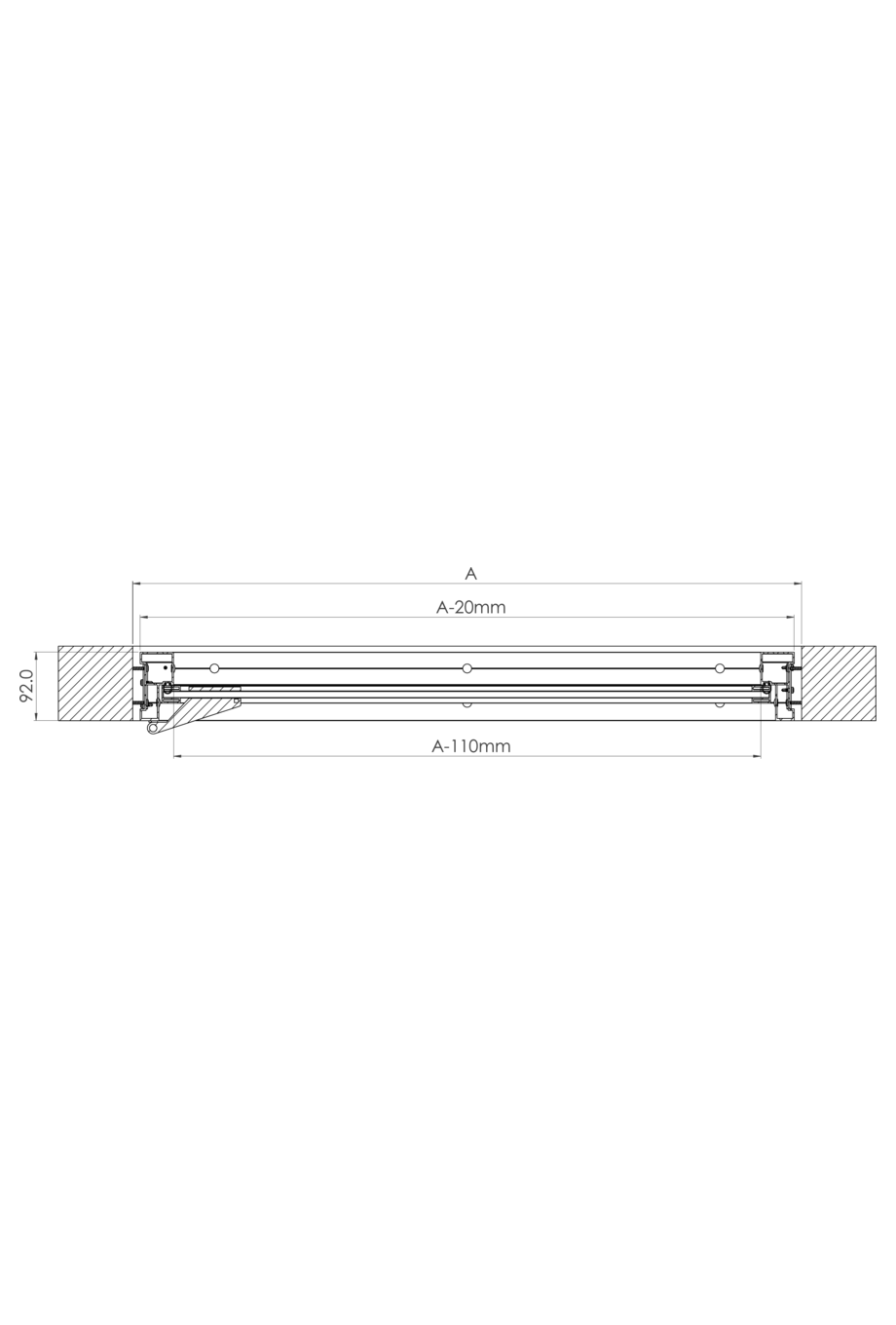 Choose accessories
The door can be equipped with a toilet thumbturn knob (optional). The surface color of the knob is black. The door can also be equipped with other thumbturns for the Nordic market.
Handle options
The product is provided with a lock cassette, a handle and a cover plate for covering the thumbturn installation hole. Thumbturn, which is commonly used in toilet doors is an additional equipment. The handle can be replaced with other handles commonly available in the Scandinavian market.
Celine single Celine door
Black painted/Transparent=800 x 2000
Celine handedness - Right Handedness - Right
BLACK WEEK 21.-28.11.2022 -25%
The selected product can be installed into the opening the total width L1 of which is 800mm and the total length L2 2000mm.: